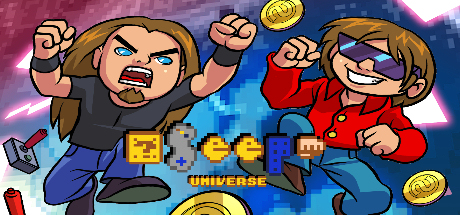 About SEEP Universe:
SEEP Universe allows the exploration of four bizzarre planets, inspired by retro games.
Run, Jump and battle enemies through more than 20 stages for a 100% retro feeling. This is the game you have always dreamed of from the 16 bit era!
The battles against the bosses change the rules of the game. For example, in the first world you'll need to run away with a SEEP car from a huge boss.
This makes the game experience varied and intriguing!
You can also collect the SEEP Coins to unlock many secrets in the SEEPedia, a huge gallery where you can discover many secrets.
Story:
A strange frequency from the videogame world has taken control of the universe. Four planets have been threatened by five obscure videogame bosses.
Each planet has its own army but this has been broken and now all the negative effects are woven together to create chaos.
SEEP, an indie developer team, has intercepted the code in the timeline that is causing the disaster. The problem seems to be the corruption of the source code of some old arcade systems, these can also teleport people from one place to another where the code is corrupted.
So the brothers Sergio and Enrico, members of SEEP, decide to go into action. Only they can save the universe by crossing through various arcade systems that have been hacked by a mysterious AI.
Features:
100% pixel art for a 100% retro feeling.
Original soundtrack product by Pedro Calquinha and André Marques, two professional
musicians, with the collaboration of Amadis Monteiro (drums).
Funny 8 bit sound effects.
Two characters in one with different skills.
Dynamic map for all worlds.
Various game level design.
SEEPedia, a room where you can unlock pictures, info and cheat with the SEEP money.
Power Ups.
4 worlds and boss battle.
Various gameplay: platform, action, puzzle, racing and much more!
Free DLCs.
Secret stages to discover.
SEEP Shooter: excite two players co-op mode!
XInput and Direct Input controller support.